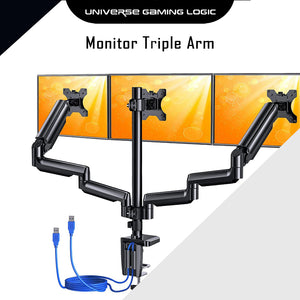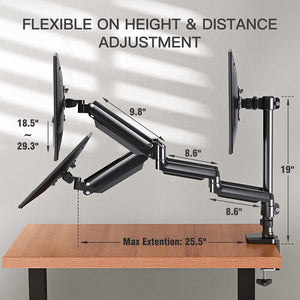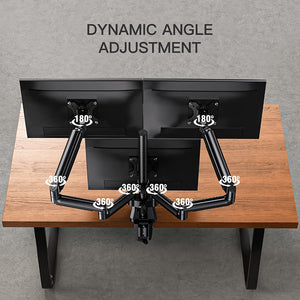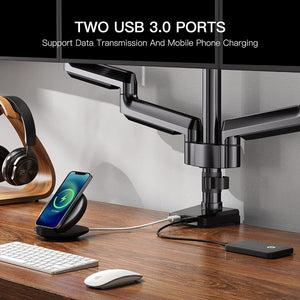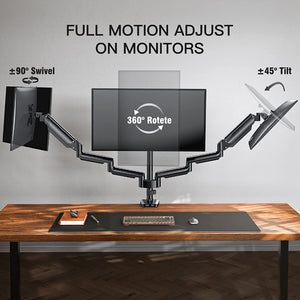 Introducing the Vantage Triple Monitor Arm, the ultimate solution for maximizing your productivity and creating a clean and sleek workspace. With its impressive features and versatile design, this triple monitor arm elevates your monitor setup to new heights.
The Vantage Triple Monitor Arm is capable of securely mounting up to two 32" monitors side by side, each weighing up to 10kg. By utilizing a single pole mount, this monitor arm not only saves valuable desk space but also enhances the overall aesthetics of your workstation. With clutter-free cable management, you can bid farewell to tangled wires and achieve a minimalist and organized workspace.
Enjoy complete freedom and flexibility with the Vantage Triple's full dynamic articulation. Tilt your monitors from +45° to -45°, swivel them from +90° to -90°, and rotate them from +180° to -180°. This extensive range of motion allows you to find the perfect viewing angles and adapt to different work requirements. It can accommodate monitors with screen sizes up to 27" and weighing up to 8kg, providing you with a wide range of display options.
With its quick-release VESA mount compatibility and clamp-mount installation, the Vantage Triple Monitor Arm effortlessly adapts to most displays available in the market. It ensures easy and secure installation, allowing you to set up your monitors swiftly and enjoy a stable and sturdy mounting solution.
Designed with your convenience in mind, the Vantage Triple Monitor Arm offers excellent cable management capabilities. Keep your cables organized and out of sight, reducing clutter and maintaining a neat and professional workspace.
Compatible with screen sizes ranging from 17" to 32" and featuring VESA compatibility of 75x75 and 100x100, this monitor arm is suitable for a wide range of monitors on the market. It has a weighted capacity of 0-8kg or 0-17.6lbs, ensuring robust support for your monitors.
Experience the freedom, flexibility, and clean aesthetics of the Vantage Triple Monitor Arm. Elevate your productivity and create a sleek and organized workspace with this exceptional monitor mounting solution.



Specifications
Mount up to 2 32" monitors side by side (up to 10kg each), all on a single pole.

• The single pole mount and cable management components allow you to achieve cleaner aesthetics. Free from clutter, maximise your table top real estate and effortlessly achieve a minimalist, clean and sleek workspace.
• Full dynamic articulation of +45°~-45° Tilt, +90°~-90° Swivel and +180°~-180° Rotation enables freedom and flexibility of movement in any direction. It can hold monitors of up to 27" in screen size, weighing up to 8kg.
• Quick-Release VESA Mount Compatibility and Clamp-Mount Installation ensures the Vantage Triple's ability to easily and sturdily adapt to most displays in the market.

CABLE MANAGEMENT: YES
MAX SCREEN SIZE: 17"-32"
VESA COMPATIBLE: 75x75, 100x100
WEIGHTED CAPACITY: 0-8kg OR 0-17.6lbs

MOBILITY
TILT RANGE: +45°~-45°
SWIVEL RANGE: +90°~-90°
SCREEN ROTATION: +180°~-180°