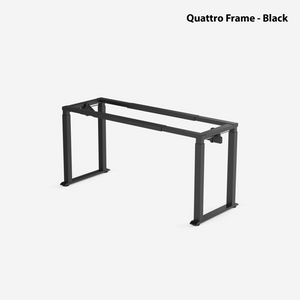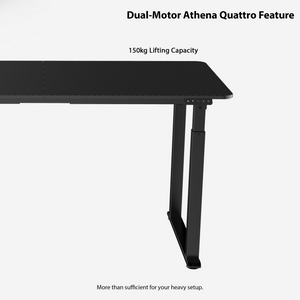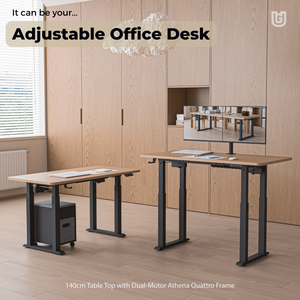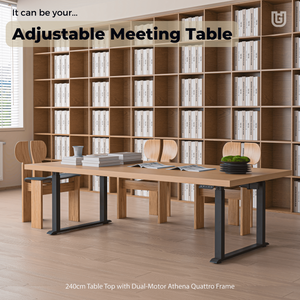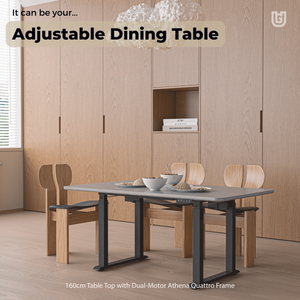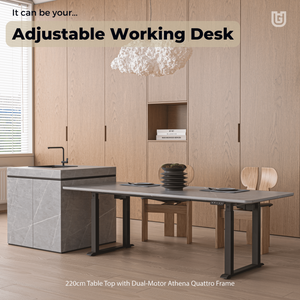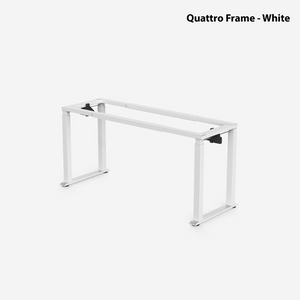 Introducing the Athena Quattro, a standing desk that redefines stability, durability, and versatility. With its unique design and exceptional features, this desk stands out from traditional standing desks, providing an unparalleled experience.
The Athena Quattro is engineered for extreme stability. Its robust construction and innovative design ensure that the desk remains rock solid even during the most demanding work tasks. You can enjoy a wobble-free experience, allowing you to focus on your work without any distractions.
Built to last, the Athena Quattro is exceptionally durable. Crafted from high-quality materials, this desk is designed to withstand the rigors of daily use. Whether you're working, having meetings, or even using it as a dining desk, you can trust that the Athena Quattro will endure the test of time.
Your desktop is secured with the Athena Quattro. The desk's advanced features and secure locking mechanisms keep your workspace stable and firmly in place. This ensures that your valuable equipment and belongings remain safe and protected, giving you peace of mind throughout your workday.
To further enhance its stability, the Athena Quattro comes with two additional legs, providing even more support and reinforcing the desk's rock-solid structure. This design feature sets it apart from standard standing desks, making it an excellent choice for those who prioritize stability and reliability.
The versatility of the Athena Quattro knows no bounds. It can serve as your office desk, working desk, meeting desk, or even a dining desk. Its ergonomic design is suitable for 95% of office workers, promoting proper posture and reducing the risk of discomfort or strain associated with prolonged sitting.
Upgrade your workspace with the Athena Quattro and experience a new level of stability, durability, and versatility. It's time to take your productivity and comfort to new heights with this exceptional standing desk.
Specifications

 
150KG Lifting Capacity

Improved Stability

Height Adjustable 72CM - 117CM


130-180 CM Width Adjustable 
(Able to fit 140CM table top - 240CM table top)

Dual-motor Design 
Stronger, More Reliable, Quieter

Available Table Top Colors :
Black, White, White Maple

Available Frame Colors:
Black, White

Available Table Top Sizes:
140cm*70cm, 160cm*70cm , 180CM * 80CM

Whisper Quiet Operation <60dB
Shipment Details
Confirmed orders will be "Ship Out" within 2 working days
Orders will be delivered within:-
2- 7 working days for West Malaysia 
14-28 working days for East Malaysia
You will receive an email that contains the J&T Cargo tracking number once we have "Shipped Out" your order.
Warranty

2 Year Warranty Coverage

Our 2 year warranty applies to:
- Incomplete set of parts on delivery
- Any defect(s) of parts during delivery
- Significant defects on mechanical parts - Control Panel, Table Frame Motor

2 Year Warranty Exceptions

Our 2 year warranty does not apply to:
- Products manufactured by other brands
- Warranty is non-transferable
- Normal wear and tear over time, including dents, scratchers, stains, swollen(bubble), fading and tears
- Changes in finishes or colors, including colorfastness and fading due to exposure to direct sunlight or aging
- Damage due to improper assembly/disassembly
- Damage caused by improper cleaning supplies
- Damage caused by product modifications, misuse, abuse or floods, fire, hurricanes
- Imprinting and scratching due to writing instruments or other sharp objects
- Expenses for return delivery for inspection and replacement