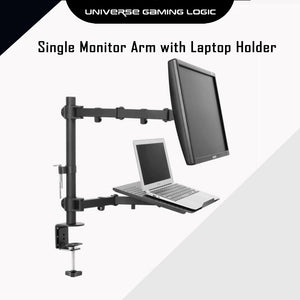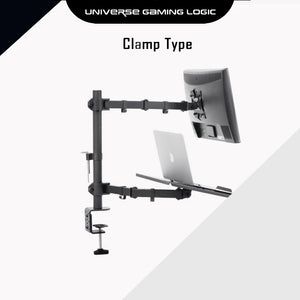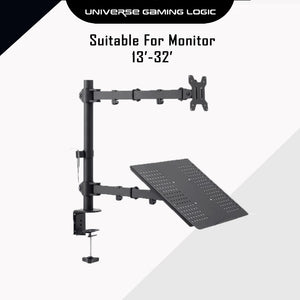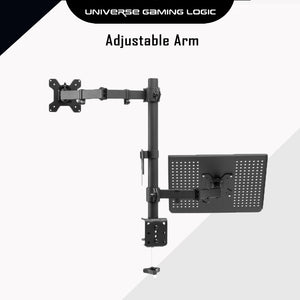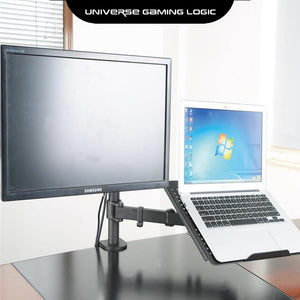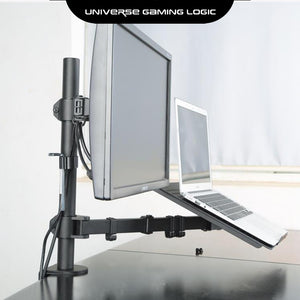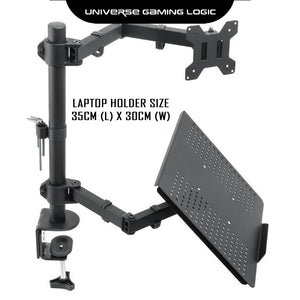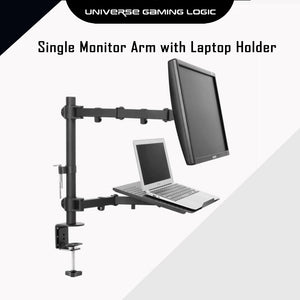 Monitor Arm with Laptop Holder
Introducing our 2-in-1 Monitor Arm with Laptop Holder, a versatile and space-saving solution designed to enhance your workstation setup. This innovative product combines a monitor arm and a laptop holder, providing flexibility and convenience for dual-screen productivity.
The 2-in-1 Monitor Arm with Laptop Holder is constructed with durable cold-rolled steel, ensuring stability and longevity. Its sleek black color adds a modern touch to any workspace, while the robust material provides reliable support for your devices.
With suggested laptop sizes ranging from 12 to 17 inches and suggested screen sizes from 13 to 32 inches, this versatile monitor arm is compatible with a wide range of devices. Whether you have a laptop, notebook, or monitor, this product offers the flexibility to accommodate your preferred screen setup.
The VESA compliance of 75x75mm and 100x100mm ensures easy and secure mounting for your screens. The desk clamp installation method provides a sturdy attachment to your desk, while the 75mm maximum table thickness allows for compatibility with various desk designs.
Featuring a 400mm pole height and an extra-long 300mm arm length, this monitor arm offers ample flexibility and reach. You can easily adjust the position of your screens to achieve the optimal viewing angle and reduce neck and eye strain. The 360° rotation, ±90° swivel, and +45° to -45° tilt angle allow for effortless customization, adapting to your ergonomic preferences.
With a monitor load capacity of up to 8kg, this monitor arm ensures stable and secure support for your screens. Enjoy a clutter-free workspace and free up valuable desk space by elevating your screens and laptop off the surface, promoting a cleaner and more organized work environment.
Upgrade your workstation with the 2-in-1 Monitor Arm with Laptop Holder, a versatile and reliable solution that enhances productivity and promotes ergonomic comfort. Maximize your screen real estate and create an efficient and comfortable setup for work, gaming, or multimedia enjoyment.
Specifications 
Laptop & Monitor Stand
Color: Black
Material: Cold Rolled Steel
Suggested Laptop Size: 12-17 inch
Suggested Screen Size: 13-32 inch
VESA Compliance: 75*75 / 100*100mm
Installation: Desk Clamp
Table Thickness: 75mm (maximum)
Pole Height: 400mm
Arm Length: 300mm (Extra Long Arm)
Rotation: 360°
Swivel: ±90°
Tilt Angle: +45° to -45°
Monitor Load Capacity: 8kg