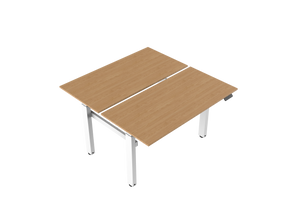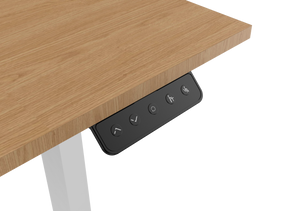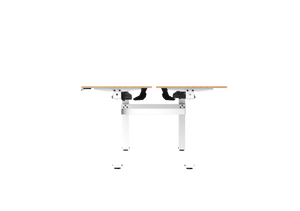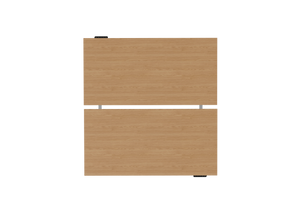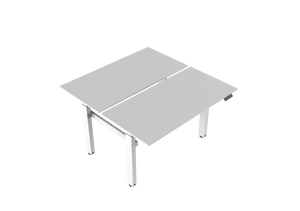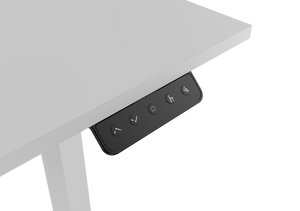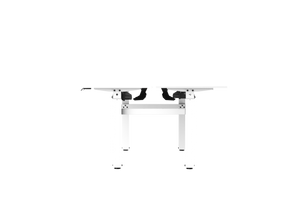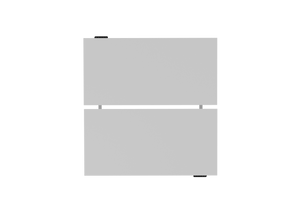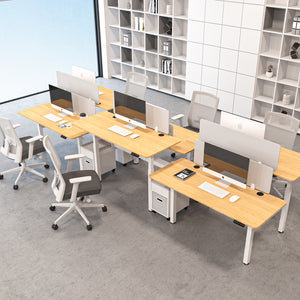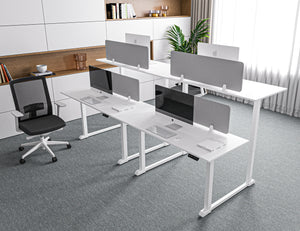 Introducing our innovative Face-to-Face Workstation, designed to foster collaboration and enhance productivity in the modern office environment. This workstation offers a unique and dynamic setup that allows colleagues to work face-to-face, promoting effective communication and teamwork.
One of the standout features of our Face-to-Face Workstation is its height adjustability. With a range of 72CM to 117CM, each individual can easily find their preferred ergonomic position, whether sitting or standing. The workstation is equipped with two memory presets, enabling users to effortlessly switch between their preferred standing and sitting heights at the touch of a button.
To ensure a seamless experience, each workstation is equipped with its own motor, eliminating any disruptions caused by height adjustments. This means that one person's movement won't affect the stability or comfort of others sharing the workstation.
Crafted with functionality and durability in mind, our Face-to-Face Workstation is built to withstand the demands of a busy office environment. The sturdy construction ensures stability, while the high-quality materials guarantee long-lasting performance.
Whether you're collaborating on a project, brainstorming ideas, or simply working alongside your colleagues, our Face-to-Face Workstation provides an interactive and flexible workspace that promotes communication and productivity. Upgrade your office environment with this innovative workstation that adapts to the unique needs of your team.


Specifications
Name
Smart Office System
Control Panel
Powered using 3pin-plug
Input
AC 100V-240V, 50/60Hz, 120W
Output
DC 29V, 2A
Motor
single motor for each table
Max Load
Motor max load up to 80KG.
Electric-Height Adjustable
Height adjustable from 72-117cm
Intelligent Height Memory

Two (2) Memory Height Setting

Table Top
15mm thick P2PB Table Top
Table Top Size
120CM * 60CM / 140CM * 70CM

Frame

Cold-formed steel

Color
Maple White / White
Weight
46.5KG / 49.5KG
What is in the package?

Table Top x2
Frame (2 seat) x1 
Control Panel x2
Headset Hanger x2
Cupholder x2


Precautions
Avoid water at all times with plugs and control panel.
Do not put anything heavier than 80KG on the table.
Do not disassemble the control panel / motor for non maintenance personnel.
Please assemble the table on a flat surface.
Shipment Details
Confirmed orders will be "Ship Out" within 2 working days
Orders will be delivered within:-
2- 7 working days for West Malaysia 
14-28 working days for East Malaysia
You will receive an email that contains the J&T Cargo tracking number once we have "Shipped Out" your order.

Warranty

2 Year Warranty Coverage

Our 2 year warranty applies to:
- Incomplete set of parts on delivery
- Any defect(s) of parts during delivery
- Significant defects on mechanical parts - Control Panel, Table Frame Motor

2 Year Warranty Exceptions

Our 2 year warranty does not apply to:
- Products manufactured by other brands
- Warranty is non-transferable
- Normal wear and tear over time, including dents, scratchers, stains, swollen(bubble), fading and tears
- Changes in finishes or colors, including colorfastness and fading due to exposure to direct sunlight or aging
- Damage due to improper assembly/disassembly
- Damage caused by improper cleaning supplies
- Damage caused by product modifications, misuse, abuse or floods, fire, hurricanes
- Imprinting and scratching due to writing instruments or other sharp objects
- Expenses for return delivery for inspection and replacement