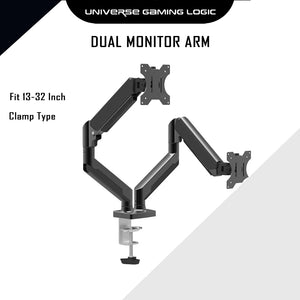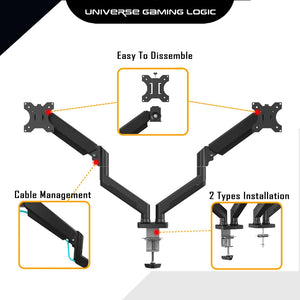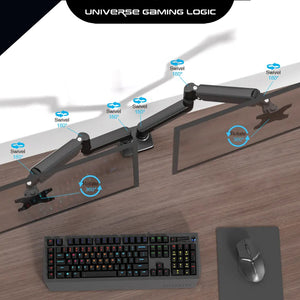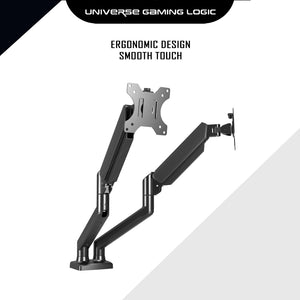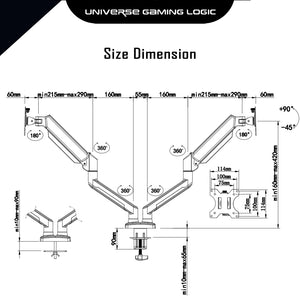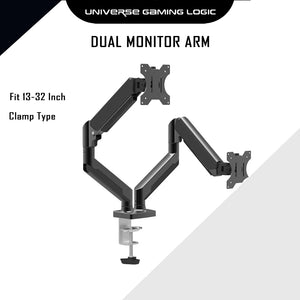 Introducing our Dual Monitor Arm, a versatile and ergonomic solution designed to enhance your workspace. This dual monitor arm allows you to elevate and adjust two monitors simultaneously, optimizing your viewing angles and maximizing your productivity.
With its sturdy construction and adjustable features, our dual monitor arm provides a secure and flexible mounting option for your monitors. It allows you to easily adjust the height, tilt, and swivel of each monitor, providing optimal ergonomic positioning and reducing strain on your neck, back, and eyes.
The dual monitor arm is compatible with a wide range of monitor sizes and weights, making it suitable for various setups and configurations. It provides a sleek and clutter-free look by keeping cables organized and out of sight, creating a clean and professional workspace.
Installation is quick and straightforward, and the monitor arm comes with all the necessary hardware for easy mounting. Its durable design ensures long-lasting performance, providing you with a reliable solution for your dual monitor needs.
Upgrade your workstation with our dual monitor arm and enjoy improved productivity and comfort. Enhance your multitasking capabilities, easily switch between applications, and create a more efficient and ergonomic workspace. Take control of your monitor positioning and enjoy the benefits of a well-organized and ergonomic workstation with our dual monitor arm.
Specifications

UGL Dual Monitor Arm Gas Strut Support for 13" - 32"

Dual Monitor Mount Arm
Suitable For Monitor Support 13" -32"

• Fits Monitor Size from 13"-32" x2
• Load capacity up to 9kg per unit x2
• Extension up to 505mm
• Roll angles 360°
• Material built by Aluminum alloy
• Colour Black
• Tilt angles +90° /-45°
• Swivel angles 180°
• VESA 75 x 75 to 100 x 100mm
• Complete with screw and manual