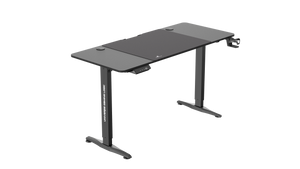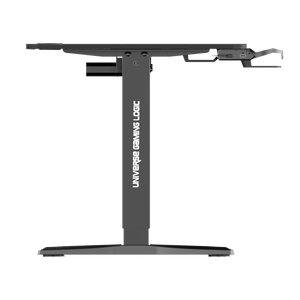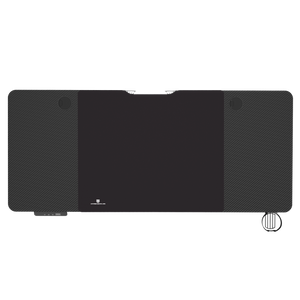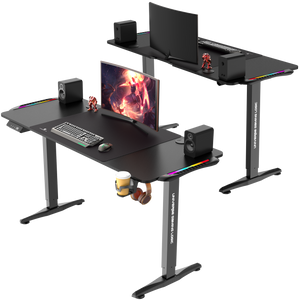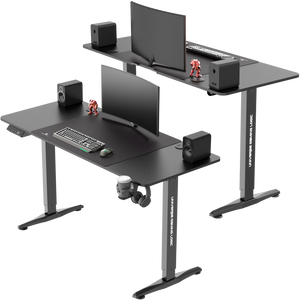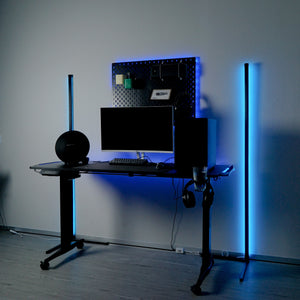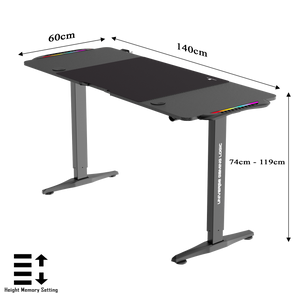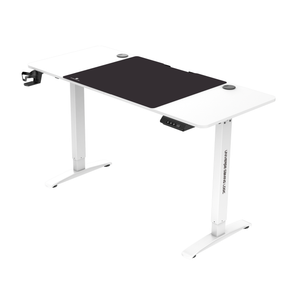 Introducing the Athena Standing Desk, the most affordable standing desk solution in Malaysia. With over 2,000 units sold, it has become a best-selling product that has garnered rave reviews from satisfied customers.
Designed to enhance your work experience and promote a healthier lifestyle, the Athena Standing Desk offers a range of impressive features at an unbeatable price point.
Equipped with a single silent motor, this desk allows for smooth and noise-free height adjustments. With a height range of 72cm to 117cm, you can easily transition between sitting and standing positions, finding the perfect ergonomic setup to suit your needs.
Embracing a standing desk has numerous benefits, such as improved posture, increased energy levels, and enhanced productivity. By incorporating movement into your work routine, you can combat the negative effects of sedentary behavior and enjoy a more active and engaging workday.
The Athena Standing Desk is built with durability and functionality in mind. The high-quality motor ensures reliable and effortless height adjustments, while the sturdy construction provides stability and support for all your work essentials.
Not only does the Athena Standing Desk offer exceptional performance, but it also boasts a sleek and modern design that will seamlessly integrate into any workspace. Its compact size makes it suitable for various settings, whether it's a home office, corporate environment, or educational institution.
Upgrade your work setup with the Athena Standing Desk, the affordable standing desk solution that has captured the hearts of thousands. Join the growing community of individuals who have embraced the benefits of standing while working and take a step towards a healthier and more productive work environment without breaking the bank.
Specifications
Name
UGL Athena Standing Desk
Control Panel
Powered using 3pin-plug
Input
AC 100V-240V, 50/60Hz, 120W
Output
DC 29V, 2A
Motor
Silent Motor
Max Load
Motor max load up to 80KG.
Electric-Height Adjustable
Height adjustable from 72cm - 117cm
Intelligent Height Memory

Two (2) Memory Height Setting

Intelligent Sedentary Reminder
Provide timer reminders ( e.g. 30, 45, 60min) to take standing breaks from your desk.
Table Top
15mm thick P2PB Carbon Fiber Table-Top
Table Top Size
140cm * 60 cm
Product Size (l*w*h)
140cm * 60cm * (73-118)cm
Frame
Aluminum Alloy Leg 
Color
Black
Weight
27.3KG
What is in the package?

Two-pieces table top x1
Single Motor x1
Control Panel x1
Frame x1
PU Mousepad with 70cm*60cm*0.2cm size x1
Cable management net bag with 48cm*16cm size x1
Headset Hanger x1 
Cupholder x1
Precautions
Avoid water at all times with plugs and control panel.
Do not put anything heavier than 80KG on the table.
Do not disassemble the control panel / motor for non maintenance personnel.
Please assemble the table on a flat surface.
Shipment Details
Confirmed orders will be "Ship Out" within 2 working days
Orders will be delivered within:-
2- 7 working days for West Malaysia 
14-28 working days for East Malaysia
You will receive an email that contains the J&T Cargo tracking number once we have "Shipped Out" your order.

Warranty

2 Year Warranty Coverage

Our 2 year warranty applies to:
- Incomplete set of parts on delivery
- Any defect(s) of parts during delivery
- Significant defects on mechanical parts - Control Panel, Table Frame Motor

2 Year Warranty Exceptions

Our 2 year warranty does not apply to:
- Products manufactured by other brands
- Warranty is non-transferable
- Normal wear and tear over time, including dents, scratchers, stains, swollen(bubble), fading and tears
- Changes in finishes or colors, including colorfastness and fading due to exposure to direct sunlight or aging
- Damage due to improper assembly/disassembly
- Damage caused by improper cleaning supplies
- Damage caused by product modifications, misuse, abuse or floods, fire, hurricanes
- Imprinting and scratching due to writing instruments or other sharp objects
- Expenses for return delivery for inspection and replacement
Athena Comparison
Athena Smart Desk
The Desk quality is good and the mechanic works fine. However, there are few things to improve: First, the desk started to shake when the desk raise over 88, I have screw every part and it still shake a little bit compare to Asus smart desk. Second, I bought the extra cable management, but there was no hole for the cable management, and I have to drill by myself which is bad thing. Finally, the instruction for the desk installation is not really clear, and this is the most important thing which is guiding to the installation.
Average
Table quality is ok but no communication to customer since the order was placed. Delivery was arranged without consulting customer on availability.